China has detected the omicron variant in Shanghai and in Guangdong province, adding pressure on authorities ahead of the Winter Olympics. Infections in Tokyo topped 4,000 for a second day.
In Australia, tennis star Novak Djokovic is back in detention as the government attempts to deport him. Uganda will destroy more than 400,000 doses of expired vaccines.
More than 10 million workers in hospitals and nursing homes in 24 U.S. states must be fully vaccinated by March 15.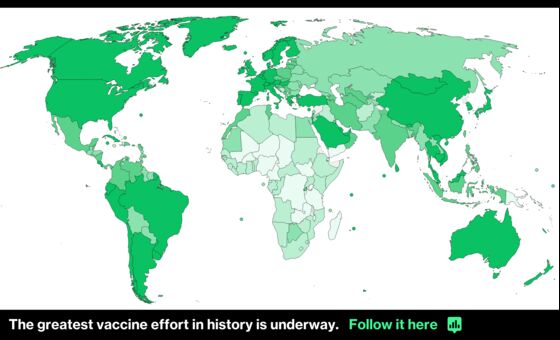 Omicron Variant in Shanghai, Guangdong (5:04 a.m. NY)
China has detected the omicron variant in Shanghai and in Guangdong province, adding pressure on authorities to contain the highly contagious strain ahead of the Winter Olympics that are due to start in Beijing on Feb. 4.
Two patients were in Zhongshan and Zhuhai in south China's Guangdong province, according to the National Health Commission. One case has been detected in Shanghai. Beijing confirmed one Covid-19 case on Saturday, CCTV reported.
U.K. Government Set to Drop England's 'Plan B' (5 a.m. NY)
The U.K. government is set to lift some virus restrictions in England from Jan. 26, the Telegraph reports. The move, which could be announced this week, may include ending Covid passports and guidance on working from home, the paper said, without giving specifics. Some rules regarding the use of face masks will probably stay in place.
Hong Kong Reports Five New Cases Amid Tighter Rules (4:54 p.m. HK)
Hong Kong reported five new cases of coronavirus, including four of the omicron variant, as the city enters its second week of increased social distancing rules.
Two of the newly infected were tied to locally known clusters, and three were imported cases, the Center for Health Protection said on Saturday. An aircraft cleaning staff member was one of 10 preliminary positive cases reported, it said.
Hong Kong plans to inoculate children age 5 to 11 starting next week using Sinovac Biotech Co.'s vaccine, civil service chief Patrick Nip said on local radio, RTHK reported earlier. The city plans to extend the offer to BioNTech SE's jab in February after Lunar New Year, RTHK said.
Uganda Destroys Expired Virus Shots (4:43 p.m. HK)
Uganda will destroy more than 400,000 doses of Covid-19 vaccines after they expired following low uptake in the country's northern region, the Saturday Monitor newspaper reported.  
The vaccines were mainly made by Moderna Inc. and AstraZeneca Plc, the Kampala-based newspaper reported, citing Health Minister Jane Ruth Aceng. 
Tokyo Covid Cases Top 4,000 Again (4:24 p.m. HK)
Tokyo reported 4,561 coronavirus cases on Saturday, topping 4,000 for a second day, with the highly contagious omicron variant spreading across Japan. 
It's the highest number of cases since Aug. 26, when the capital was in a virus emergency. The seven-day case average jumped to 2,427 from 502 a week ago, according to the Tokyo metropolitan government. 
The recent surge prompted the Japanese capital to raise its Covid alert to the second-highest of four levels this week. Japan has also put three other areas under a quasi-emergency, allowing local authorities to place restrictions on businesses like bars and restaurants. Japan is seeing few Covid-related deaths, although hospital admissions are rising.
Philippines Adds 39,004 New Infections (4:02 p.m. HK)
The Philippines added 39,004 new cases, fueling fears of a return to stricter curbs on movement.
The new cases increased the country's total infections to 3.17 million. There were 43 more deaths, according to data released on Saturday.
Dogs Can Detect Long Covid in Humans (1:26 p.m. HK)
Dogs are able to detect infection in some long Covid patients, which suggests that a simple and non-invasive test may be possible to detect the presence of the virus, according to a study from France.
The study showed that dogs can detect volatile organic compounds up to one-and-a-half years after the initial phase of Covid-19, the researchers said in the preprint posted on medRxiv.org. The study hasn't been peer reviewed.  
Australian Regulator Reviewing Potential Use of Novavax (12:47 p.m. HK)
Australia's pharmaceutical regulator is assessing Novavax Inc.'s vaccine, with a decision on its approval for use there likely within the next 10 days, Health Minister Greg Hunt told reporters.
The decision comes as authorities ramp up vaccinations for adolescents and urge those age 16 and older to get booster shots in a bid to help ease pressure on the nation's health care system.
New South Wales, the nation's most populous state, recorded 48,768 new Covid-19 infections and 20 related deaths Saturday. Victoria, which is hosting the Australian Open tennis in its capital city Melbourne, recorded 25,526 new infections and 23 deaths. Authorities expect infections to peak later this month or early February.
Germany Reports Decline on Covid Cases to 78,022 (10:36 a.m. HK)
Germany reported 78,022 new Covid cases, down from 92,223 the day before, according to the country's public health authority RKI.
Reported new deaths associated with the virus rose by 235, bringing the total to 115,572, while the 7-day incidence rate rose to 497.1 per 100,000 people.
Biden Team Appeals Texas Block on Health Worker Mandate (9:37 a.m. HK)
The Biden administration is appealing a federal court's block on the health worker vaccine mandate in Texas, the only state that doesn't have to comply with the rule after the U.S. Supreme Court said it could move forward in the rest of the country.
The Department of Health and Human Services Friday filed a notice to appeal a preliminary injunction granted Dec. 15 by the U.S. District Court for the Northern District of Texas. The HHS also requested a stay of the injunction pending its appeal to the Fifth Circuit.
Deadline Set for Health-Care Workers in 24 States (8:02 a.m. HK)
Medical facilities in two dozen states affected by the Supreme Court decision on the Biden administration's Covid vaccination mandate for health workers have until March 15 to get their employees fully vaccinated, according to guidance released Friday.
Injunctions had prevented the mandate from going into effect in those states, prompting many facilities to pause efforts to implement the requirement from the Centers for Medicare & Medicaid Services. The high court Thursday lifted those injunctions. 
Friday's guidance affects more than 10 million workers at hospitals, nursing homes, and other facilities that receive reimbursements from Medicare and Medicaid. That is a later date than allotted for health facilities in 25 states that were not involved in the litigation that reached the Supreme Court. They have until Jan. 27 to get their first doses and Feb. 28 to be fully vaccinated.
Australia Says Djokovic Poses a Public Risk (7:42 a.m. HK)
Tennis star Novak Djokovic's entry permit to Australia was canceled because his presence risks strengthening anti-vaccination sentiment and creating a public order risk, according to court documents. 
Immigration Minister Alex Hawke barred the world men's No. 1 tennis player despite saying Djokovic had entered with a valid medical exemption from being vaccinated and presents a negligible health risk himself. 
His ongoing presence "may lead to an increase in anti-vaccination sentiment generated in the Australian community, potentially leading to an increase in civil unrest," Hawke said in the filing.  
GE Halts, Honeywell Keeps Vaccine Policy (7:02 a.m. HK)
General Electric Co. is suspending implementation of the Biden administration's vaccine-or-test mandate for large employers, while another industrial heavyweight, Honeywell International Inc., will stick to its policy.
The Boston-based maker of jet engines, wind turbines and medical scanners confirmed its decision Friday via email. GE is the first major company to halt its policy after the Supreme Court blocked the centerpiece of President Joe Biden's push to boost Covid-19 vaccinations. 
Yet the court's ruling has had no effect on a workplace vaccination mandate at Honeywell, the Charlotte, North Carolina-based maker of automation equipment and aircraft parts said by email Friday.