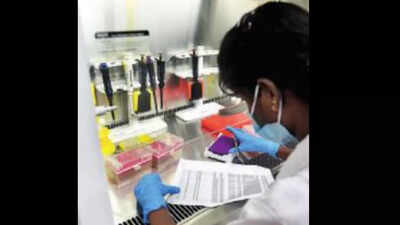 Picture used for representational purpose only
KOLKATA: Labs across Kolkata are witnessing a slight dip in Covid positivity rate this week over last week when the rate had shot up to 70% on a few days.
However, even after a climbdown, Kolkata's positivity rate is still in the range of 50% -55% this week with the city reporting over 6,500 cases every day.
The positivity rate in labs across the three AMRI units has come down by about 12% in the past few days and is currently between 50% -55%. The Narayana labs, too, have seen a similar dip. "Last week, positivity was around 67% but there has been a gradual decline in the past few days and currently it is about 55%," said R Venkatesh, regional director (East) Narayana Health. Simmardeep Gill, CEO of CK Birla Hospitals, said positivity rate at the hospital lab was over 50% a week back. "For the last two days, it has dipped to 20%. There is also a dip in hospital admissions," Gill said.
In government labs, the positivity this week is between 40% and 50% when many, including NICED, had reported 65% positivity last week.
Health experts say this could be the beginning of a silver lining for Kolkata but warn against any laxity. The trend needs to persist for at least a week or 10 days for the true picture to emerge, they feel.
"This could indicate localized and temporary herd immunity. At 70% positivity, we can assume another 10% unreported positive cases, hence the possibility of herd immunity against Omicron, which is now dominant. But we do not yet know how long this immunity will. last. Therefore we can in no way drop our guard, "said Diptendra Sarkar, IPGMER professor and Covid task force member.
Last 7 days, Kol's + vity rate highest among metros
The average positivity rate at our lab in for the past three to four days is about 50%. The gradual decline started from Monday. But since it is just about four to five days we need to observe this trend for at least a week, "said Bhaskar Narayan Chaudhuri, microbiologist at Peerless Hospital.
According to the Union health ministry's data, Kolkata's positivity rate between January 7 and 13 was 58.9%, the highest among all metro cities. State health department officials pointed out that this weekly report included at least three days last week when many city labs reported around 70% positivity.
"The next weekly positivity report should have the rate come down for Kolkata. Even transmission rate is very high and we are planning all possible strategies to bring it down," said a senior health department official.
Alok Roy, chairman of the Medica Group of Hospitals, said earlier people with mild symptoms or even asymptomatic contacts of confirmed cases would turn up to take the Covid test, most of them turning positive. Now, even many symptomatic patients are not taking the test and this could be one reason for the positivity rate coming down. Even among the symptomatic, mostly those whose symptoms are persisting for two-three days are coming to get their swab samples tested.
"Also, we are coming across many taking the test for travel or for reporting back to work and a majority of them are coming out negative. This could also be another reason for the positivity going down," said Bhasakar Narayan Chaudhuri.
FacebookTwitterLinkedinEMail