KOLKATA: Celebrities current at Netaji's a hundred and twenty fifth beginning anniversary ceremony at Victoria Memorial On Saturday, reacting to the "Jai Shri Ram" slogans that sparked a bitter political row, have stated the chants had been "uncalled for" at such an occasion.
Actors Indrani Halder and Rudranil Ghosh, music director-turned-filmmaker Indraadip Dasgupta and percussionist Pt Anindo Chatterjee – who had been invited by the Government of India – loved this system but didn't support the chants.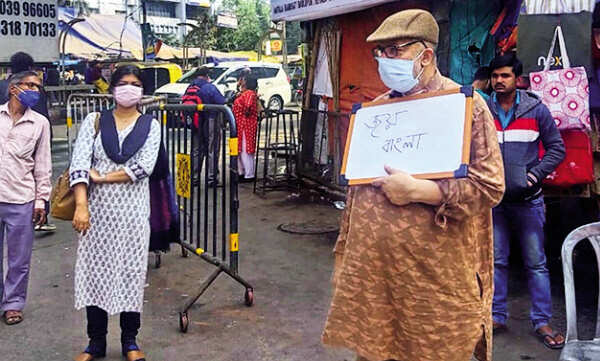 The shouts started simply as CM Mamata Banerjee obtained as much as converse and ended after she returned to her seat, offended over the slogan related to BJP invading an apolitical occasion. Her speech was proper after the rendition of 'Dhana Dhanyo Pushpa Bhara' by Soumyojit of the Sourendro-Soumyojit duo.
"I could hear people shouting and didn't know what to do," Soumyojit stated. They stated it was a privilege to have been invited by the ministry of tradition to current their work at "such a historic platform". "We, however, felt the sloganeering was uncalled for. We believe the spirit of the concert would have been better conveyed without it, "they stated.
'Chants at a gorgeous occasion diverted consideration'
Rudranil Ghosh, who beloved this system, was impressed by the designing and restraint proven within the presentation. "But I do not support the chants. I do not support slogans with political or religious implications at any government program irrespective of party lines, "stated Ghosh, who has been essential of the state authorities within the latest previous.
"I would have liked if our chief minister had given her speech on Netaji. She could have concluded her speech by telling the mob that such sloganeering at a government program insults the Prime Minister and spoils the dignity of the event, "he added.
On Saturday morning, Halder was current on the CM's rally from Shyambazar to Red Road. "I attended the Victoria Memorial program after getting a direct invitation from the Prime Minister's Office," Halder stated, including that she was informed it could be a "non-political program". "Why wouldn't I go to a non-political program in Kolkata where the PM is present and I am invited properly? Later, when I heard the chief minister was also going, there was no reason for me not to go. "
Halder beloved the projection mapping, which was a light-weight-and-sound show on the white marble edifice of Victoria Memorial Hall, on the life of Netaji. "I went with the mentality of attending a non-political program. The show was going on well. When others gave their speech, there were no such chants. Was it really required to chant when our chief minister was there? I don't think so, "she stated.
Halder additionally identified that PM Narendra Modi had stated "Jai Hind" earlier than and after his speech. "He didn't utter the words' Jai Shri Ram'. I appreciated that, "she added.
Chatterjee identified that "Jai Shri Ram" chants are "in the name of God". "The words are not offensive, but hearing them in the middle of a beautiful program dedicated to Netaji diverted the attention. That broke the rhythm. How an individual reacts to this… is an individual's choice, "he stated.
Dasgupta stated he heard 'Jai Shri Ram'slogans as he was coming into Victoria by way of south gate. "I heard these chants even when Modiji was on stage. We had been Government of India's visitors attending a authorities program. I don't support such chants there. I don't know why we all of a sudden needed to show our love for Ram at a authorities program. It was an occasion for Netaji. I used to be shocked with the 'Jai Shri Ram' chants there, "he stated. "We should grow up as a country. If it is a government function, it should remain a government function, "Dasgupta added.