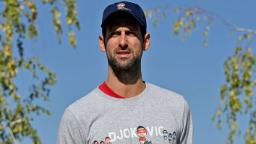 Novak Djokovic was granted a medical exemption to compete in the Australian Open as he had recently recovered from Covid-19 — contradicting guidance by health authorities, documents published on Saturday by Australia's Federal Circuit Court show.
"Mr Djokovic had received, on 30 December 2021, a letter from the Chief Medical Officer of Tennis Australia recording that he had been provided with a 'Medical exemption from COVID vaccination' on the grounds that he had recently recovered from COVID," the document said.
Djokovic's first Covid-positive PCR test was recorded on December 16, 2021, and after not showing signs of a fever or "respiratory symptoms" he later applied for a medical exemption to compete in the Australian Open, according to the court filing.
In a letter dated December 7, which was leaked to journalists Friday and cannot be independently verified by CNN, it appears tournament organizers wrongly informed unvaccinated players they could enter Australia to take part in the grand slam.
The letter advises that a confirmed Covid-19 infection in the last six months along with an accompanying letter from a doctor or public health authority would be considered as valid documentation for a medical exemption. Players were urged to submit their applications no later than December 10, the document states.
The guidance appears to contradict advice in a widely reported letter sent by Australia's Health Minister Greg Hunt to tournament director Craig Tiley in November stressing that a Covid-19 infection in the past six months did not meet the requirements for quarantine-free entry.
His vaccination status: The court documents confirmed the 34-year-old was unvaccinated when he arrived in Australia on January 5. He has previously voiced opposition to Covid-19 vaccines and vaccines mandates, but prior to this had not publicly disclosed his vaccination status.